Digital X-Ray

Tuscumbia, AL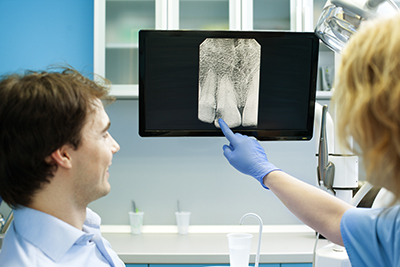 Digital radiology or digital x-rays have become a popular choice at dental clinics these days. There's a lot of speculation about the accuracy and advantages this kind of radiology has to offer. Singing River Dentistry focuses on using digital radiology since it's a more efficient diagnostic tool in helping your teeth, mouth, and bones effectively. Not only are digital x-rays environment-friendly, they are also easier, sifter and help you act on the problem without any delays. Forget having to switch between a pathology and dentist clinic to get an x-ray. With digital radiology, it is all done instantly and at the same place.


Less Radiation

Traditional x-ray machines are known to have high levels of radiation. However, digital radiology has lesser exposure to this radiation. It also helps to provide results faster and that too with 85% lesser exposure to radiation. This is why it proves to be a better solution than the conventional radiography system.


Better Accuracy

One of the major benefits of using this advanced technology is that it provides better accuracy and enhanced image quality. Digital radiology is easy and requires you to place a small sensor inside your mouth and it quickly sends an image to the computer. The image received on the computer is highly detailed and helps professionals clearly identify any dental problems as well as the treatment needed on time.

The doctor can always go back to the images to check past records of patients and compare them with new images. Digital radiology helps saves time and enables professionals to begin treatment instantly rather than having to wait on conventional x-ray.


Progress Tracking

One of the biggest advantages of using digital radiology is that these files are saved on the computer under a patient's digital file. This ensures that none of the records go missing and your dentist always has the latest scans to compare results with. The technology is powerful and can help see changes with fillings or root canals, restoration work, tooth movement or bone loss. If it's a big treatment procedure, these records help to validate the treatment procedure you are undergoing.


Environment Friendly

Conventional x-rays are toxic and contain chemicals that are not healthy for the respiratory system, kidneys, liver, and blood. Switching to digital radiology is safer and eliminates the need for radiology waste that comes out of conventional x-rays, thus protecting the environment considerably.

Since digital radiology is less time-consuming in comparison to conventional x-rays, the wait time per patient is also reduced greatly. It's also a transparent method of helping the dentist explain treatment procedures and milestones as they move along. These results are more accurate, which helps to find better treatment solutions and get to the root cause of a problem faster.

If you want to learn more about digital radiology and how it can impact your dental treatments and care, give Singing River Dentistry a call at 256-712-2240. We would love to sit down with you and explain how advances in dental technology can improve your oral health.