Filling

Tuscumbia, AL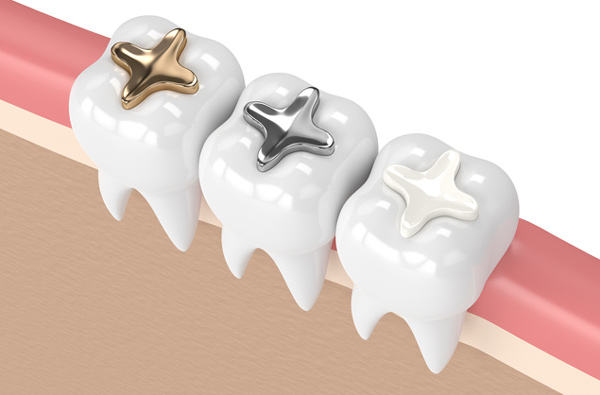 Four out of five children aged six to 14 develop a cavity, and more than 91 percent of adults in the U.S. have cavities between the ages of 20 and 64. Our team at Singing River Dentistry are skilled in applying fillings to cavities to protect the teeth.


Porcelain Fillings

Porcelain is durable and imitates teeth very closely due to the translucent nature of the material. Porcelain fillings cost more than some other options but are less likely to break under extreme pressure. Porcelain fillings are also less prone to staining, preventing uneven discoloration for our patients' teeth.


Composite Resin Fillings

Composite resin is commonly used due to its relatively cheap price. The aesthetics of composite resin are similar to those of porcelain fillings as well. Patients can expect up to seven years of use with proper care. Like porcelain fillings, resin fillings are shaded to match the surrounding teeth.


Metal Fillings

Gold fillings can last up to 30 years, while amalgam fillings can last up to 15 years. Amalgam is the most affordable filling, while gold is among the most expensive. Both are great for molars due to their resilience to chewing. Amalgam is made from a mixture of different metals with 50 percent of its weight being mercury. Gold fillings are a mixture of gold, copper, and other metals. For pure durability and longevity purposes, gold is the most suited for high traffic areas where patients are likely to bite and chew.


Benefits of Fillings

The primary benefit of fillings is that they refurbish the tooth, allowing it to function similarly to how it functioned prior to the cavity or injury. Tooth-colored fillings can blend in with the rest of the patient's mouth, making the filling virtually undetectable. Installing a filling takes roughly an hour, and the pain involved in the process is minimal to none. Fillings allow the majority of the tooth's internal structures to remain intact. Fillings can also be a vital part of preparation for a root canal treatment. Some variants of fillings, such as glass ionomer, emit fluoride, strengthening the teeth around them. And some types of fillings, such as composite resin fillings, can also be used to treat chipped or broken teeth.


Issues to Consider Regarding Fillings

Patients with amalgam fillings will not be able to undergo laser surgery, as the laser striking the amalgam filling will release mercury vapor. Sensitivity to cold and heat is possible for a few weeks after a filling is put in. And whereas most dental insurance companies will cover most or all of the cost of composite or amalgam fillings, dental insurance companies might only cover part of the cost of the higher-end fillings such as porcelain or gold.


Speak to Us About Tooth Restoration

If you have concerns about a cavity or any other dental issues and would like assistance with your oral health, our team will be happy to help you at Singing River Dentistry. You can call our office to make an appointment with our professionals at 256-712-2240. Your oral health is as important to our team as it is to you.