Restorative Dentistry

Tuscumbia, AL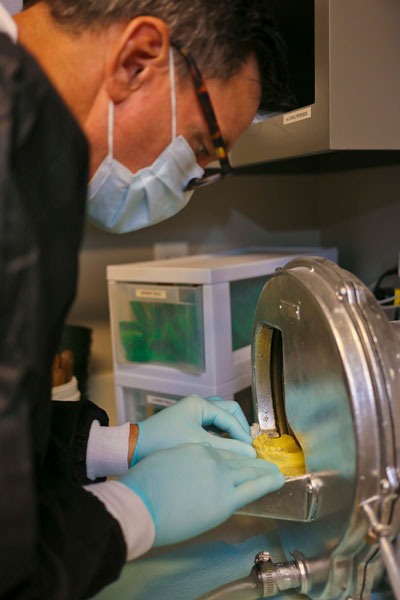 Have you been experiencing any dental pain? Good oral health is an important factor in living a healthy and comfortable lifestyle, and any kind of discomfort can disrupt your day-to-day life and make ordinary tasks like eating and speaking difficult.

If you are experiencing any kind of tooth decay, you must have it treated as soon as possible to prevent further decay and save the affected tooth as well as protect your other teeth.

Our team at Singing River Dentistry in Tuscumbia, AL can determine which solutions will best suit your needs and guide you along every step of the procedure.

If you would like to know more about when you should seek dental treatment, here are a few typical scenarios that we commonly see and the procedures our doctors use to treat them.


What is Restorative Dentistry?

Essentially, it is any treatment or procedure that seeks to restore function to your mouth by either repairing your teeth or replacing them with an artificial one.

Depending on how far tooth decay has spread and the condition of the affected tooth, there are several different procedures that can be done to treat a variety of cases.

There are many benefits of restorative dentistry, and whether we can repair the tooth or we have to extract it, the goal of all of the procedures is similar.

We aim to improve your appearance, eliminate pain, restore functionality, and prevent any further spread of decay in your mouth.


Treatment Options for Cavities

A cavity is a permanently damaged area of your tooth, typically forming a hole or some kind of opening on the surface as a result of bacterial growth, poor cleaning habits, and excessive consumption of sugary foods.


In such cases, one of the most common methods of treating a cavity is a dental filling, which involves drilling into your tooth to remove the cavity.

Once it is removed, we can then fill the gap left behind with either silver, gold, porcelain, or a tooth-colored plastic or glass composite that will solidify and restore the appearance of the tooth.



If the cavity is too large for an ordinary dental filling, that is when inlays and onlays might be used instead.

Like a dental filling, an inlay is placed at the center of the tooth and is a solid piece shaped to match the cavity in your tooth perfectly.

Similarly, an onlay is a solid piece shaped to fit a gap or hole left by a cavity, but rather than being fitted into the center of the tooth it is instead placed on the cusp.


A root canal procedure is performed when the cavity has reached deep into a tooth and has affected the soft pulp.

During a root canal, we will remove the soft pulp and rinse out the infection, leaving your tooth hollow inside.

Afterward, we will either fill the gap with a composite similar to what is used in a dental filling, or we will place a dental crown over it. Regardless of which method we use, a root canal will stop the infection and preserve the tooth.


A smile makeover can be custom-designed for our Tuscumbia, AL patients. The process is usually a combination of several procedures: some cosmetic, some restorative.


Dental crowns are artificial teeth- essentially caps - that are placed on top of your tooth once it has been reshaped to fit the crown. Since the crown has to be shaped to fit with the rest of your teeth, it may take a few weeks before it is ready.

However, some crowns, like the CEREC same day crowns, can be finished and received over two visits on the same day.


Treatment Options for Tooth Replacement


In some cases, tooth extractions are necessary, such as when you have impacted wisdom teeth or when the decay is beyond removal.


If you are missing a full arch or set of teeth, you may want to consider complete and/or partial dentures, as they are the most affordable option for those missing a lot of teeth or who have unhealthy jawbones. Dentures (in general) are a removable solution that require special care and attention to ensure they remain in working order.


In cases when a patient has a healthy jawbone and is using a partial denture, they may opt to go from normal dentures to implant bridges - which are bridges secured via dental implants.


A dental implant is a titanium screw that is placed onto your jawbone once the roots have been removed, upon which a crown will be placed.

This procedure is the longest-lasting and has the most natural appearance of the three main procedures. However, they are also the most expensive and least likely to be covered by insurance.

Please visit our other webpages to learn more about dental implants:

In addition to dental implants, dental bridges are also commonly used to replace a single tooth. This method uses a crown that is suspended (like a bridge) between two other crowns.

If you are in need of restorative dental work, whether you choose dentures, dental implants, or dental bridges, you will regain functionality and have your appearance restored.


Restorative Dentistry To Protect Your Oral Health

Restorative dentistry is an essential practice to promote a healthy oral lifestyle and protect your teeth from tooth decay. Many Americans live with untreated tooth decay, which will only grow progressively worse when left unattended.

If you are experiencing any kind of discomfort or pain, getting it diagnosed as quickly as possible will prevent the problem from worsening or potentially spreading to other regions.

Whether your teeth need to be repaired or extracted and replaced, we have a solution. If you would like to consult with an expert, our team at Singing River Dentistry can help you identify the source of pain and find the best procedure for you.


Schedule a Consultation with Your Dentist in Tuscumbia, AL

Should you have any questions or if you would like to schedule an appointment, a member of our team can help you! Call us at 256-712-2240 today.