Periodontal Care

Tuscumbia, AL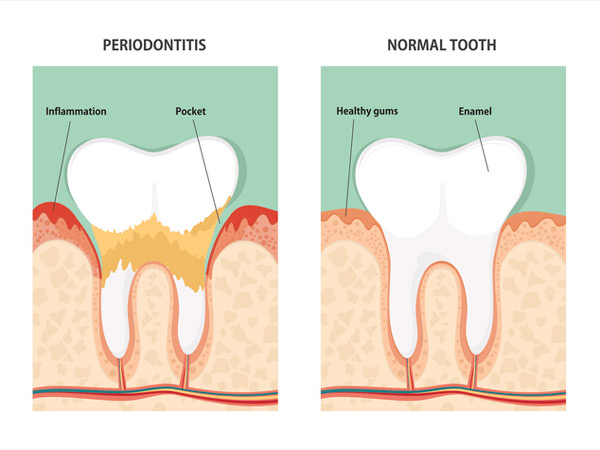 The early stages of

gum diseases

rarely show signs of discomfort or irritation. Most people don't notice gum issues until it's quite late. Gum diseases progress quickly and eventually lead to advanced-stage gum disease. These diseases are chronic bacterial infections which result in gum and bone loss. Regular visits to Singing River Dentistry can ensure the diseases are detected at an early stage and the effects are reversed before any damage is done.

These gum diseases are known as periodontitis and are the primary cause of tooth decay and

tooth loss

in adults. Periodontal disease affects the immune system of the body and creates inflammatory cells that destroy tissue and supporting bone around your teeth. That's how tooth loss occurs.


Benefits Of Periodontal Treatment

Regular gum treatment and better oral hygiene can help treat this disease and also helps keep your gum and teeth healthy and strong. This helps to reduce the bacteria in the infected area and treat the gum tissue to prevent bone loss. You need to understand that these diseases spread quite fast and when ignored, the bacteria can enter the bloodstream thereby causing the treatment to take longer. Timely periodontal treatment can prevent bacteria from entering the bloodstream. It also reduces the risk of cross-contamination.

Periodontal diseases affect the teeth and gums and destroy the aesthetic appeal of your smile. Timely treatment procedures can help prevent loss of natural bone and gum tissue and it's easier to keep healthy this way. The lower the risk of bone loss, the stronger your teeth will be. The bacterial infection caused by periodontal diseases can result in poor oral hygiene, bad breath and discomfort while talking. Regular periodontal treatment helps overcome these problems, not only to improve your oral health, but also to boost your confidence levels. It also helps to improve the functionality of your teeth.


Periodontal Treatment Procedures

While mild periodontal diseases can be treated with less invasive procedures, some periodontal diseases spread too far into the root and gum tissue. In such cases, they require multiple treatment sessions to decontaminate the gum tissue and protect the teeth. Treatment procedures like laser are less invasive when it comes to severe cases of periodontal diseases, however the overall process depends on how severe the infection is. Below are a few common steps taken to treat periodontal diseases.


Scaling And Root Planning

This is the first step of treatment where the plaque is removed below the gumline from the tooth most infected, so the treatment can target the affected gum for it to begin healing.


Laser Decontamination

Laser decontamination is a model method used these days to help treat periodontal diseases. This laser light helps to decontaminate the bacteria in the gum tissue, thereby helping the procedure work more quickly and effectively.

Once treatment has begun, we at Singing River Dentistry begin to assess the bacteria level and the infection to help provide the best possible treatment and

periodontal maintenance

. You can also give us a call at 256-712-2240 to learn about the various customized treatment methods for periodontal infections during your next dental exams and dental cleanings.