Dangers of Not Brushing Your Inner Cheeks or Tongue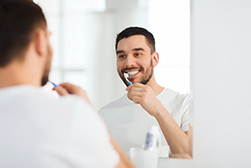 You have probably heard our famous dental chair monologue at Singing River Dentistry:

"Gently brush your teeth twice a day for two minutes per brushing session. Floss each day as a part of your evening brushing routine."

After hearing that, you may have tuned out to the rest of our team's speech, but did you get the part about brushing your inner cheeks or tongue? You may want to revisit this advice and pay attention to why this action step is important as well.


Why You Should Pay Attention to Your Cheeks

When you brush your teeth twice a day, you are helping to eliminate food particles left on the surface of your teeth.

In addition, you are getting rid of plaque and bacteria. However, did you know bacteria are present on all surfaces inside your mouth? The inside of your cheeks deserve a cleaning once a day as well.

You can gently brush the inside of your cheeks, or you can use an alcohol-free fluoridated mouthwash to do the job. Either way, it is important to remember to care for your inner cheeks, so bacteria does not take residence in this soft tissue.


Why You Should Pay Attention to Your Tongue

We all have stinky breath occasionally. Bad breath is usually apparent in the morning, but it can persist throughout the day. Bacteria and decayed food particles in your mouth hang around in the grooves of your tongue. They produce a sulfur compound that emits an unpleasant odor. By daily brushing your tongue, you are brushing away bacteria and limiting the source of the stink.


We Can Help You Understand How to Brush

Make your request online for your next appointment at our Florence, AL office, or call us today at 256-712-3549.

We look forward to helping you understand the best oral hygiene practices, and at Singing River Dentistry we will help you design a routine that best suits your particular oral health needs.