What Is an Impacted Tooth and How Does It Alter Your Oral Health?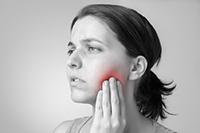 Most often, impacted teeth are wisdom teeth, or the third molars in the back of the mouth. When the teeth do not emerge but stay as they are, they can negatively affect the surrounding teeth and can lead to crowding in the mouth. Therefore, an impacted tooth should be removed to ensure better oral health.


Why Do Teeth Become Impacted?

As noted, teeth often become impacted, when they are situated in the very back part of the mouth. The wisdom teeth are the last teeth to come in, and normally should appear between 17 and 21 years old. However, impacted third molars are a common problem, as they become stuck beneath the gum, partially emerge, or cannot come in at all. When teeth become impacted, it is because the jaw cannot accommodate them, or there is not enough space for them to grow. In some cases, the tooth comes in at a wrong angle, and may come into contact with the tooth in front of it.


Why Impacted Teeth Should Be Removed

While many patients do not think an impacted wisdom tooth as being a problem, this type of tooth can lead to dental issues and should be removed. When a tooth becomes impacted, it can trap plaque, food, and debris in the surrounding tissue, which leads to gum tenderness, swelling, and the formation of cavities. Therefore, if your teeth are impacted and are third molars, you need to have them removed immediately. Delaying the treatment can lead to some dental complaints you don't want, such as a gum infection or problems with shifting and crowded teeth.

Give us a call to have your teeth and gums examined today. Stay on top of your dental care so you can maintain your smile and lessen any dental concerns and complaints.