Why Brushing Your Teeth Twice A Day Is So Crucial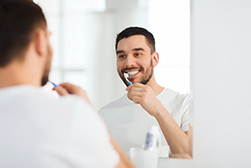 Growing up, we've always heard adults and dentists tell us to brush our teeth twice a day. Doing that is essential to keep your teeth super clean and healthy, but it's not just that. It comes down to the little things that together help keep your dental health in the best shape possible.

Here are many other reasons why brushing your teeth twice a day is so crucial.


Fresh Breath

If you deal with mouth odor issues, it's probably because of irregular brushing habits. Brushing twice a day prevents the buildup of bacteria in teeth, further preventing odor issues and keeping your breath super fresh.


Removal of Teeth Stains and Discoloration

Tea, coffee and wine are three commonly consumed beverages by people all over the world, and while they are truly enjoyable, these drinks are the main reason behind teeth stains and discoloration.

Brushing your teeth twice a day helps remove the stains and prevents discoloration, as the mild abrasives present in your toothpaste, such as calcium carbonate, dehydrated silica gels, and magnesium, remove debris and dirt from the surface of the teeth.


Prevents Gum Disease

When you don't brush your teeth regularly, you are at high risk of tartar and plaque buildup that can lead to serious dental diseases and infections. This happens when food and bacteria accumulate in the mouth. When they aren't removed properly, you are likely to experience gum disease.

So, it is extremely essential to brush your teeth twice a day, especially before going to bed at night, as it keeps the dental region clean and fresh throughout the night.

If you ever face any dental related issue, contact Singing River Dentistry for treatment and further information on how to keep your teeth in the best health and shape.

To schedule an appointment with us, call us at 256-712-3549 today.