Rainbow Produce Help Restore Nutrients to Your Mouth
Posted on 2/22/2021 by SRD Florence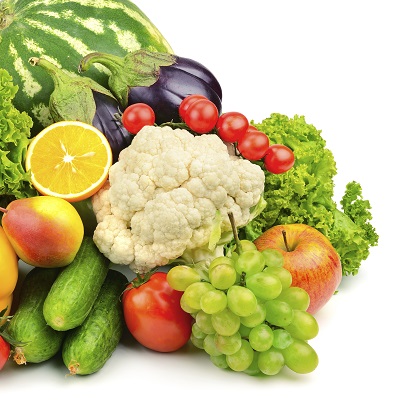 Have you heard the saying, "The more colorful the plate, the lower the weight?" Well, colorful fresh fruits and vegetables are also good for the teeth. The following information explains how rainbow (colorful and fresh) foods restore nutrients to the mouth.


What Is Rainbow Produce?

Rainbow produce includes all those fruits and vegetables that display vibrant coloring and antioxidants that ward away gum infections and are good for the mouth's soft tissues. Some examples of rainbow produce include apples, berries, green and leafy vegetables, carrots, and celery. The chewing action you exert when eating rainbow produce strengthens the gums and teeth.


Rainbow Produce that Fight Gum Disease

Many fruits and veggies, described as rainbow produce, are rich in the antioxidant vitamin C. Vitamin C protects the gums from bacterial infections and cellular damage. These foods include apples, pears, pineapples, tomatoes, strawberries, grapefruit, oranges, or cucumbers. Be careful, though, as oranges and grapefruits are highly acidic. Therefore, you need to rinse your mouth with water after eating them. Berries, such as strawberries and blueberries, contain anthocyanins, which prevent pathogens from forming on the teeth. Cranberries also contain enzymes that stop the formation of decay-producing bacteria.


Fibrous and Cruciferous Veggies

Chewing fibrous veggies, such as celery or carrots, are also good for your dental health as well. They promote the flow of saliva and carrots, especially are high in beta carotene. The body needs beta carotene to produce vitamin A, a nutrient that helps build strong teeth and gums. You can also improve your oral health with leafy greens, such as spinach, chard, kale, and green or red lettuce. The nutrients found in leafy veggies include vitamins A and C and calcium, beta carotene, and magnesium – all of which support good dental hygiene. Cruciferous vegetables, such as cabbage and asparagus, are good for teeth and gum health as well.

Are you brushing twice a day and flossing daily? Do you also eat dental-friendly rainbow produce? If so, you will realize better dental check-ups. Give us a call today to schedule a dental appointment and exam. To realize better dental health, you need to practice regular oral hygiene and increase the nutrient-density of the foods you eat.