Risk Factors for Getting Cavities You May Not Realize You Have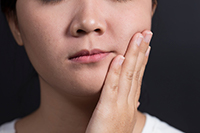 Everyone knows that eating sugary foods can lead to developing cavities. Likewise, most people are aware of the fact that neglecting their normal dental hygiene routine can cause cavities. However, there are some other factors that can contribute to tooth decay. Being aware of them can help you avoid problems the next time you sit in the dentist chair.


Inadequate Fluid Intake

Drinking enough water to keep you healthy is a good idea for a number of reasons. Water helps in pretty much everything your body does, from digestion to respiration to exercise. However, many people do not realize the importance of proper hydration in relation to their oral health.

A major cause of cavities is the acidic byproducts created by the organisms that live in your mouth. Drinking plenty of water will help reduce the acid levels by increasing the washing action of your saliva. So, for the sake of your teeth, be sure to drink enough water to keep your mouth comfortably moist.


Acid Reflux Or Heartburn

If you suffer from acid reflux, you are already aware of some of the discomfort this condition can cause. However, you may not be aware of the effect it has on your oral health. By raising the acid levels in your mouth, acid reflux can directly contribute to the development of cavities. As such, if you have this condition, you need to be sure to contact your doctor and follow his or her instructions for treating it. Your teeth will thank you.

Caring for your teeth involves so much more than routine oral hygiene. Addressing the above factors can help keep your teeth healthy and strong. As always, if you have any questions about your teeth, feel free to contact us. We're here to help you!