What to Do If You Get Sick and Fear those Germs Are on Your Toothbrush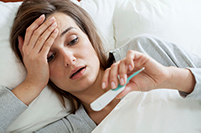 Brushing your teeth should be done so you feel better, not sicker. However, if your toothbrush is exposed to the germs of a family member, for example, who is sick, you need to change your brush. You also need to take precautions if you happen to get sick.


Alternating Toothbrushes

It always helps to have a backup toothbrush. The bacteria that live on a toothbrush are known to be anaerobic. What this means is that they die when exposed to oxygen. Therefore, the germs die out when they come into contact with the air. If you allow your toothbrush to dry, the process will get rid of most of the germs. Therefore, you should use one toothbrush while allowing another toothbrush to air-dry.


Do Not Keep Your Toothbrush When You are Sick

While using alternating toothbrushes is a good idea when you feel well and want to make sure you are using a clean toothbrush, you still need to replace your toothbrush if you get sick. This holds true, as well, if someone in your family is ill. Doing so is the best way to prevent the spread of germs and infection. You can buy ADA-endorsed toothbrushes for $1.00 each, so investing in extra toothbrushes never hurts, whether you are sick or not.


Storing Your Toothbrush Separately

When storing your toothbrush, set it aside in a space away from the other toothbrushes in your household. You also want to avoid storing toothbrushes together in the same place. It is better that toothbrushes stay isolated and do not come into contact with each other.

If you feel sick, it is best to play it safe. That is why you need to always have clean toothbrushes on hand. Instead of boiling the brush in water or using hydrogen peroxide, simply have some new brushes you can use when needed. You should also contact us every six months for a professional cleaning and exam. Give us a call to schedule an appointment for a check-up today.