Metal Braces Vs. Ceramic Braces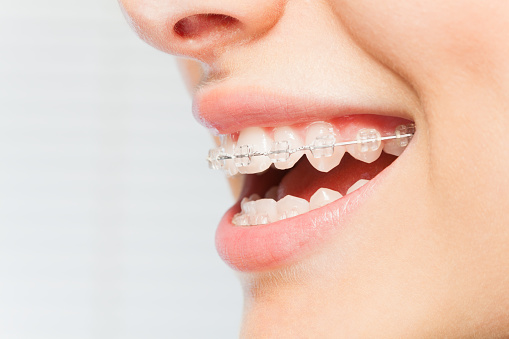 As a more aesthetic alternative to stainless steel braces, ceramic braces have been introduced as an orthodontic option. Ceramic braces look more natural than metal braces.


Ceramic Braces

Straightening the teeth with ceramic braces is orthodontic treatment. Compared to traditional metal braces, they have one significant difference: the brackets are constructed from a composite material that mimics ceramics. The brackets may be clear or tooth-colored. Traditionally, braces are designed to use archwires and elastic bands. Contrary to lingual braces, ceramic braces are attached directly to your teeth.

This straightening process takes about the same amount of time as metal braces, therefore most patients' treatment period will be between 18 and 24 months. These can be used on both juvenile and adult patients by an orthodontist or regular dentist. The biggest advantage of ceramic braces is their appearance. Having said that, the usage of ceramic brackets does appear less noticeable on the majority of individuals and may assist alleviate certain aesthetic problems. There is some indication that ceramic brackets cause less plaque buildup than metal braces, although the data is limited.


Metal Braces

This conventional type of braces may accomplish forceful, effective tooth pressing and pulling. As previously stated, they also cause severe discomfort, make tooth hygiene more difficult, and pose other major dangers. Metal braces are the most affordable form of braces. As previously stated, the primary distinction between metal and ceramic braces is aesthetic: the brackets are comprised of a composite that resembles ceramic material.

Ceramic brackets are also less resistant to wear than stainless steel brackets. If you choose this treatment option, it is advised that you wear a mouthguard if you participate in sports, strenuous exercise, or any other regular activity in which your mouth moves a lot in order to preserve your braces. Ceramic bracket removal is more likely to tear off enamel than metal bracket removal. Processes like laser-aided ceramic bracket debonding attempt to mitigate this danger. According to some sites, they straighten faster than metal braces, although there is little to no clinical proof to back this up. They are around $1,000 more costly than metal braces for entire therapy.