Laser Dentistry

Tuscumbia, AL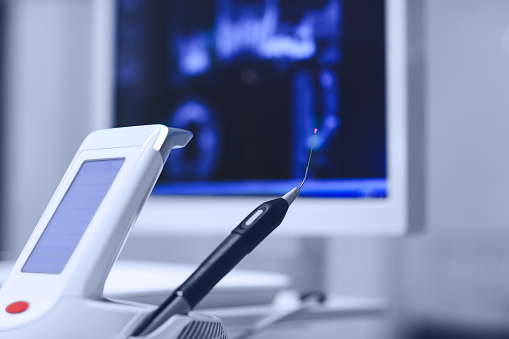 Laser treatments have gained popularity in various healthcare industries and dentistry is no different. In recent years, laser dentistry has become increasingly popular since it is a less invasive and more precise method of treatment that most patients prefer over dental drilling. Let's face it – dental procedures aren't the most painless procedures one goes through, which is why laser dentistry sounds like a refreshing change. If you hate the idea of drills and being poked and prodded by sharp instruments, then get in touch with Singing River Dentistry to understand more of how laser dentistry works.


Versatility

Laser dentistry can be used for various dental problems. From something as basic as a teeth whitening procedure to more invasive surgeries such as surgical reshaping of the gums, lasers are extremely effectively. There are different dental lasers available for different dental procedures. Most dental procedures are performed using a handheld diode laser which helps treat soft tissue and precisely target the affected area it needs to work on.

Laser dentistry is highly effective, and it doesn't touch healthy tissue. This makes it convenient for professionals to target only the affected area, irrespective of how small or large it is.


Effective In Treating Gum Disease

Periodontal disease and gingivitis spread rapidly and protecting against tooth loss is essential in these situations. To prevent these gum diseases from spreading, it is essential to quickly target them. Lasers work best in such situations and apart from removing plaque from the pockets and roots of the teeth, it also helps to treat infections effectively.

In severe cases where dental surgery is needed, laser dentistry can be the non-invasive option that helps to reduce the bacteria and toxins in the mouth and also provides quicker healing time.


Minimally Invasive Surgical Device

Dental surgery is two words that sound painful and scary. The good news about using laser treatment for surgery is that the procedure is minimally invasive and there is rarely a need for local anesthesia. Even the toughest laser dentistry procedure is a breeze when compared to previous methods of treatment. This is why we've turned to laser dentistry, to provide a better, safer experience for all of our patients.


Faster Healing Time

Most dental procedures require a stipulated time frame for recovery. The path to recovery is painful, uncomfortable, and irritating. When dental procedures and treatments are done with lasers, recovery times are largely reduced due to reduced swelling, less bleeding, and faster overall healing.


Safe For Patients With Pacemakers

Patients that have pacemakers find it difficult to go through dental procedures since most dental devices can affect the pacemaker. Laser dentistry, however, does not interfere with the pacemaker in any way, making it a safe and effective option to choose.

Not only is laser dentistry painless, but it is also effective and manages to deliver quality results. If you want to learn more about laser dentistry, then call Singing River Dentistry at 256-712-2240. We will help determine which treatment options will yield the best results for your particular situation, and our laser dentistry experts can answer all of our questions.