Is There More Than One Type of Cavity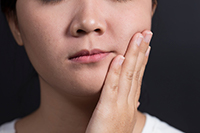 According to the CDC's National Center for Health Statistics, a lot of American adults – nine out of ten – have cavities.

Moreover, most of these people have tooth decay that remains untreated. Cavities, when left untreated, can cause inflammation in the tooth or even loss of the tooth.

Read on and find out more about the different kinds of cavities and how our dentists treat them at Singing River Dentistry.


Fissure and Pit Cavities

These cavities are found on the food grinding surfaces of the teeth, mostly on the molars. They are the most common type of cavities, caused by careless oral hygiene habits. It is easy for food particles to remain stuck in the crevices and grooves in the teeth. Plaque can also easily stick there and remain unnoticed.

When detected early, this cavity can be treated using fluoride toothpaste that is good for your teeth. If the cavity gets to the dentin, it must be removed and the tooth fixed with crowns, composites or fillings.

Composites and fillings are the best option for minor to average cavities while crowns are good for large fissure and pit cavities.


Root Cavities

These are located on the surface of the tooth roots, especially in older adults who are most likely to have gum disorders like receding gums, which leave the tooth roots exposed.

When you come to us with this kind of cavity, we will first remove the decay then replace it with a crown or filling.

The tooth-colored filling material used these days is hardly noticeable when you smile or speak. Severe cases of this cavity can spread to the pulp of the tooth, thus would require a root canal treatment.


Smooth-Surface Cavities

These cavities are usually on the flat external surface of the tooth. They are caused by careless oral hygiene habits, just like the fissure and pit cavities. They are the least common since they grow slower than other cavities.

They are the easiest to treat since they may not require filling. We normally use treatments like fluoride-enriched water, toothpaste, varnishes, or gels.

If you have these cavities, it is best to seek dental care with Singing River Dentistry as soon as possible to protect your teeth. Contact us today for more information.