Tooth Loss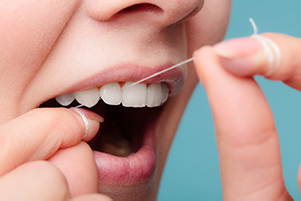 We like to save a tooth whenever possible, but sometimes it's not. Teeth can be lost due to injury or disease. When a tooth is lost, it is best for your oral health to restore the tooth. At Singing River Dentistry, we can discuss multiple restoration options and help you find the best solution to fit your individual needs.


Why is tooth loss a problem?

Many patients question the problem with tooth loss. Previous generations experienced extraction and tooth loss as a much more typical option. Today, we have greater understanding on why tooth loss is problematic and what to do if extraction is necessary.

When a tooth is lost, there are both immediate changes, and long term changes that occur. Immediate changes include adjustments to how you chew, changes to your diet and bone loss. Long term changes include shifting of neighboring teeth, continued bone loss that can cause neighboring teeth to suffer, and uneven wear on teeth that are now doing a majority of the chewing. Additionally, the tooth that once met with the now missing tooth even suffers bone loss because it is not making contact with the now missing tooth to provide the stimulation the bone needs. Patients often ask if missing teeth alleviate overcrowding, but it's never a good idea to allow neighboring teeth to shift out of control, as it would rarely be in your favor.


Replacing Missing Teeth

When a tooth is lost, or multiple teeth are lost, we can rebuild and restore them with dental prosthetics. Prosthetic devices include a dental crown, dental bridge, or denture. Each of these devices come with some options in materials, how many teeth they can be used to restore, and how they are retained. Some information includes:

| | |
| --- | --- |
| • | Dental Crown: A dental crown can be placed on a damaged tooth, or a dental implant. When teeth become weakened, broken, or damaged, we can rebuild the structure with a crown. Crowns are customized to match the original structure in size and shape. They are then cemented in place over the damaged tooth. If the tooth structure is entirely gone, we can still use a crown, but we first need to surgically insert a dental implant to serve as a post to retain the crown. This allows the patient a fully independent restored tooth. |
| • | Dental Bridge: A dental bridge is often used to restore one or a few teeth. It is placed using a bridge system, meaning each end is anchored by either a healthy tooth or implant with replacement teeth between. A dental bridge is a permanent device, meaning it is not removable. Besides smaller dental bridge systems, there are also full arch dental bridge systems. This treatment begins with the placement of four to six dental implants and then the bridge is placed over the implants. This is sometimes known as an implant retained denture or the All-on-4® Treatment Concept. |
| • | Full or Partial Denture: A denture is a removable full or partial set of teeth. Partial dentures are attached using a clasping system. Full dentures can be either loose, meaning they are held in place with suction or adhesion, or set, meaning they are retained with the assistance of implants to hook or clasp in place. Implant retained dentures help patients have dentures that feel and function much more similarly to their natural teeth. |
Schedule an Appointment

If you have missing teeth, contact Singing River Dentistry at 256-712-3549 and we will be happy to schedule an appointment to discuss your tooth replacement options.