Kids' Dentist

Florence, AL


You probably already have a dentist that you like and see regularly, so why go out of your way to find another dentist for your child?

While regular dentists are great at caring for adult teeth, pediatric dentists, such as our experts at Singing River Dentistry, offer their expertise in our family-oriented Florence, AL office. Our expertise makes a big difference in your child's smile.


How We Care for Your Child

You choose a pediatric dentist because they care for your child in a way that standard dentists cannot - so how exactly do we provide this care?

As a kids's dentist, we provide basic dental services such as exams and cleanings, but we are also equipped to handle specialized pediatric dental care, such as space maintenance, pediatric emergencies, and pulpotomies.

We do all of this in an environment designed to appeal and comfort very young children, including those with special needs.

A good pediatric dental office should be inviting and calming and offer plenty of privacy. The environment is about more than just the appearance of our office, it is also about how we conduct appointments. Exams are kept as brief as possible, to cut down on impatience and restlessness. If necessary, sedation options are offered.

Read More About Sedation For Kids
Read About Space Maintainers


When Should Kids First Go to the Dentist?

As pediatric dentists we strongly support the American Dental Association's official direction to bring kids in for their initial check-up no later than six months after their first baby tooth peeks out, or by the time they have turned one year old.

Bringing them in early helps them get used to our dentists and the experience of having their teeth cleaned and examined. A visit also shows them that there is nothing to be worried about.

We'll take the opportunity to answer all of your questions about how best to care for your child's teeth, and learn a little bit more about both of you. To us, this is an important part of family dentistry.


Do Baby Teeth Matter?

Many parents think baby teeth are not as important as adult teeth because they are temporary and will soon be replaced.

Baby teeth are actually extremely important, and you should care for them like you would any other teeth.

If baby teeth fall out too early, there might be problems as adult teeth start to erupt.

Improper care of baby teeth can even cause problems with speaking and eating.
How Should You Take Care of Baby Teeth?

You can care for baby teeth more or less like you care for your own. Be sure to purchase a toothbrush and toothpaste designed with children in mind, and do not forget to look for that seal of recommendation from the American Dental Association.

Kids under three years need only a dab of toothpaste. After three, give them the same pea-sized amount that you use.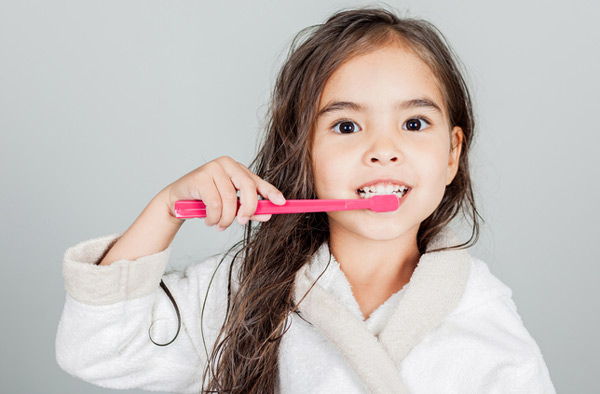 Dental Hygiene for Kids

Taking care of our health can be complicated and difficult, and this is even more true for kids.

That is why it is so important to empower kids to care about their teeth early on when they are still young.

This can give them a sense of responsibility and pride in their smiles, instilling good habits that will last for years to come.


Make Brushing and Flossing Fun

If kids dread the two minutes they spend every morning and evening brushing their teeth, then they will never be truly engaged in caring for their oral hygiene.

Inevitably, they will stop being diligent, and sooner or later, cavities and gum disease may start to appear. The solution to this is to make sure that brushing is always fun and something to look forward to.

You can turn brushing into a game by playing timed videos online, reading aloud their favorite story, or dancing along to a song. You can also brush at the same time as your kids, setting a positive example by showing you care for your teeth too.


Let Kids Choose a Toothbrush and Toothpaste

Another way to make brushing fun is by giving your child the opportunity to pick out their own toothbrush and toothpaste.

Whether you are shopping online or at your favorite retailer, there are more options than ever when it comes to toothbrushes and toothpastes designed specifically for children.

This makes it easier to show your child the kid's section and let them pick. Whatever they choose, make sure that it fulfills a few requirements.

For toothbrushes, you want one with a small enough head that it can easily fit in their mouth, and with extra soft bristles to maintain their enamel.

For toothpastes, anything with fluoride should be good.

And for both, make sure they have the official seal of the American Dental Association.


Building a Positive Relationship With the Dentist

It is equally as important as everything else we have described here for us to take the opportunity to build a positive relationship with your child.

Just like your child should look forward to brushing, they should also look forward to seeing the dentist.

While taking care of teeth at home is critical, visiting the dentist is an opportunity to get those tough-to-reach nooks and crannies cleaned out, spot signs of plaque or gingivitis before they get worse, and show both you and your child the best ways to care for teeth.

If your child has anxiety about visiting the dentist, perhaps because of things they have heard from friends or seen in the media, then we offer safe, child-friendly sedation options.


Schedule Your Kids' Appointment in Florence, AL Today!

If you are ready to start empowering your child to care about their teeth, then call us at 256-712-3549 today! At Singing River Dentistry, we know how to make dental health fun and engaging, so we hope to see you soon!