Teeth Whitening

Florence, AL

Your teeth can become discolored for many reasons.

Even with daily brushing, flossing, and rinsing your pearly whites might take on a different hue over time. The main causes of tooth discoloration are plaque, tobacco, liquids (cola, coffee, tea, red wine), exposure to metals (iron, copper, nickel, cadmium), and even some antibiotics, particularly tetracycline. Genetic disorders such as sickle cell anemia and cystic fibrosis can also lead to tooth discoloration.

Here at Singing River Dentistry in Florence, AL we have seen countless cases of tooth discoloration. Our dentists offer targeted whitening solutions.

Please note that while we do accept several different insurance plans most dental insurance does not cover tooth whitening.


More About Teeth Whitening

The procedure of treating your teeth to whiten them is called teeth whitening, commonly referred to as bleaching.

You must first schedule a consultation in order to find out if your teeth and gums are in good health for whitening. Not everyone should bleach their teeth. You may not be able to get your teeth whitened if you need treatment for a disorder affecting your dental health.

By limiting the number of foods and beverages you consume that might discolor teeth, you can help maintain their brightness. Additionally, giving up smoking will aid in preventing fading and stains.

There are many, although not all of them are equally effective, techniques to whiten your teeth. The most popular way is to have your teeth professionally bleached by a dentist, although that is not an option for everyone. You may purchase a variety of home kits at the grocery store, and you can even consider laser whitening.


Why Choose Professional In-Office Teeth Whitening?

Teeth whitening by our dentists and team offers a quick, highly effective way to improve your look if discoloration has taken a toll on your teeth and you believe you may benefit from a smile makeover.

Professional teeth whitening performed by a dental professional, as opposed to over-the-counter teeth whitening treatments, may provide remarkable effects quickly by lightening the tooth enamel and underlying dentin during a process catered to your specific needs.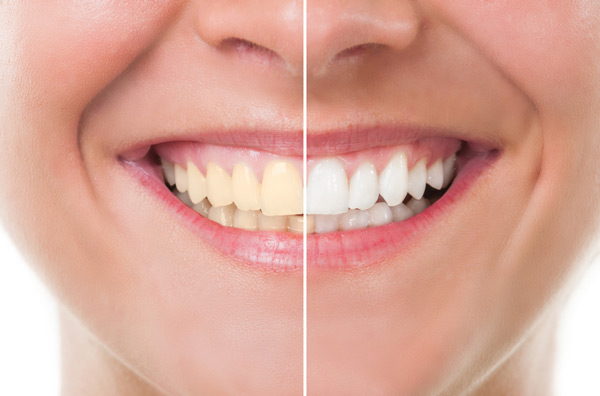 What Happens During Professional Teeth Whitening?

Tooth whitening is a simple, non-invasive process.


•
We will start by recording the current shade of your teeth and work with you to find the desired level of whiteness.


•
The next step is to remove any plaque on the surface as this will impede the treatment.

We perform a dental exam during this step to make sure your teeth are healthy enough to undergo the treatment.

Problems like cavities, unhealthy gums, cracked teeth, and decay can be further irritated by tooth whitening thus need to address first.


•
It is very important to protect the gums from the whitening solution so tools called retractors might be used around your cheeks, lips, and tongue.

A barrier-like shield will provide additional protection along your gumline.

In the event you have very sensitive teeth and/or gums, a whitening tray might be a better option. Though you will see results, they will not be as noticeable as those from our non-tray procedure.


•
This is when the whitening agent is applied to the front of your teeth. The active ingredient in this substance is a form of peroxide, usually hydrogen or carbamide, and concentrations can vary.

This solution works by penetrating the enamel, thus beginning an oxidation process to remove discoloration.


•
Depending on which product is used, we might use a light or laser to activate the whitening agent.

At this point all you have to do is relax and wait for 30-60 minutes. During this time, we might need to reapply the agent a few times depending on how the whitening is progressing.


•
Once the maximum time has passed or the requested shade of white is achieved, we will rinse your mouth and remove the retractors.


After gauging the results additional treatment(s) might be necessary, especially if you are looking to whiten your teeth by several shades.

After the first treatment you might see two to three shades brighter. Some of our patients have seen an improvement of eight shades after just one treatment!


After the In-Office Teeth Whitening Procedure

The in-office professional teeth whitening process takes 60 to 90 minutes to finish and may make teeth two to eight shades whiter.

Use of desensitizing toothpaste for two weeks before the operation may be suggested as tooth sensitivity is the procedure's main negative effect.


Cosmetic Dentistry Kits

Home whitening kits can only be purchased from a dentist and need a tooth imprint to be produced for the custom-fitted trays. They are less expensive than the in-office procedure. It takes one to two weeks to create the trays.

The patient must utilize the kit for one hour each day for two weeks after receiving it.


Schedule Professional Teeth Whitening with Your Florence, AL Dental Professionals!

There are several alternatives for teeth whitening. If the color of your teeth is preventing you from smiling widely or if you want to restore the previous beauty of your teeth for a particular occasion, teeth whitening is a great option. Moreover, teeth whitening is done safely, rapidly, and comfortably at Singing River Dentistry with all of the tools and supplies required to target your specific requirements and accomplish your intended goals. Call us today at 256-712-3549 to book your appointment or for additional information.