Tooth Extraction

Florence, AL


Tooth extraction must be performed whenever you suffer from advanced gum disease or a cracked, decayed, or broken tooth.

Tooth extraction can also be performed to help create space during orthodontic treatment to ensure proper teeth alignment.

At Singing River Dentistry, we have a dedicated and reliable team of dentists with expertise in tooth extraction.

We have state-of-the-art equipment that enables our dentists to conduct extensive dental examinations and perform fast and efficient dental implant procedures.

Our gentle tooth extraction techniques and numbing options will put you at ease during your procedure at our Florence, AL dental practice.


Reasons For Tooth Extraction

We may recommend an extraction when other procedures are unable to reverse the damage to the affected tooth, or when there is inadequate space for newly erupting permanent teeth, which could lead to misaligned teeth and impaction.

In preparation for orthodontic treatment an extraction may also be recommended.

When teeth cannot be saved through a root canal, we will need to perform a tooth extraction to save the bone and gum tissue.


What Are the Different Types of Tooth Extractions?

There are two types of extractions. A simple extraction, and a surgical extraction.


Simple Tooth Extraction

Simple tooth extraction is an easy procedure that requires a small or no major recovery period. It is an extraction type done on a visible tooth that does not hide in the gums.

After numbing the nearby area, the dentist will use an elevator to loosen the tooth from the socket. After loosening the tooth, forceps will be used to remove the tooth. This is a simple and quick procedure that can be used in removing multiple teeth whenever necessary.


Surgical Tooth Extraction

Surgical tooth extraction is when surgical procedures have to be performed to remove a particular tooth. Surgical tooth extraction is very common in removing impacted wisdom teeth that are extensively damaged, teeth that contribute to overcrowding, or teeth without intact structure.


Best Candidates for Tooth Extraction

You may be a candidate for tooth extraction if your tooth has been damaged or broken, and is unable to be repaired by dental bonding, filling, or with a dental crown.

If you have problematic wisdom teeth, you may also be a candidate. Wisdom teeth can become impacted underneath the gumline and can do more harm than good. They also increase the risk of infection.

If you're getting braces or other orthodontic work done, you may need to have a tooth extracted to make room for others as they shift into their proper position.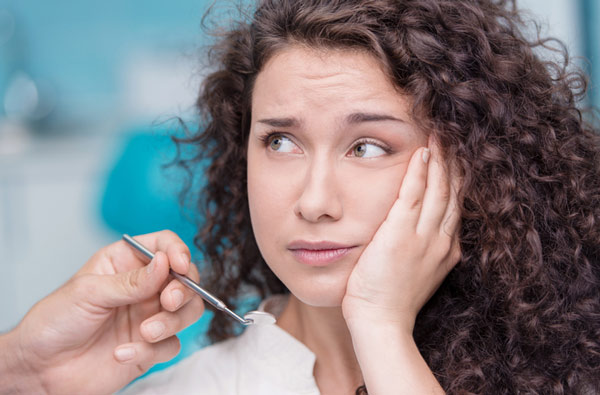 What to Expect During a Tooth Extraction

Extractions are performed under the use of anesthesia to ensure comfortability during your procedure. The type of sedation used may vary depending on the extent of the extraction, and whether or not you have any dental anxieties.

For a simple extraction, one of our experienced dentists will use cutting-edge tools and advanced techniques to gently remove the tooth.

During a surgical extraction, one of our highly qualified dentists will carefully make small incisions in your gums in order to reach the tooth. Sometimes the tooth is broken into smaller pieces for easier removal. After the tooth is removed, we will close the incisions in your gums.


Tooth Extraction FAQ's

Here are some frequently asked questions about tooth extraction.


Why Do I Need to Have My Tooth Extracted?

You must extract your tooth when it becomes damaged, infected, or decayed.

Tooth extraction will be performed when a tooth cannot be repaired with a dental filling or crown replacement.

Only professional dentists are allowed to perform a tooth extraction. You should never remove a tooth by yourself or let anyone who is not qualified and licensed to remove it for you.


How Long Does a Tooth Extraction Take?

The entire tooth extraction process of a single tooth can take 20 to 40 minutes.

When multiple teeth are extracted, each additional tooth will require three to 15 minutes, depending on its location. For example, wisdom tooth extraction takes longer when compared to the front teeth due to their location.


Is Tooth Extraction Painful?

Patients' experience with pain may vary, depending on the complexity of the extraction that was performed. Over-the-counter pain medication may help with relieving any possible swelling to your mouth following the extraction.

In some cases, you may be given a prescription for pain medication and antibiotics. You may need to arrange for an alternative ride home, depending on the method of sedation used during your procedure.


How Long Does Pain Last After Tooth Extraction?

There is always the possibility of feeling some discomfort and pain after the tooth extraction process. Pain and discomfort are common when a tooth is extracted from the socket and can last three to seven days. If the pain or discomfort levels persist, you should schedule an appointment with the dentist.


What Can I Eat After Tooth Extraction?

You should consume soft foods and liquids 24 hours after undergoing tooth extraction. You can slowly start returning to your normal diet when you feel comfortable. Stick with foods that are easy to chew for a couple of days - foods like pudding, ice cream, yogurt, and Jell-O.

In addition to any recommended follow-up appointments, it is important that you continue to schedule appointments for routine examinations and cleanings, so our team can monitor and maintain your oral health care after an extraction.


Schedule a Tooth Extraction With Your Florence, AL Dentist!

Tooth extraction does cause anxiety for some people. At [Singing River Dentistry, we have a team of qualified and experienced dentists responsible for restorative dentistry services. Our dentists will help ease our clients' worries by offering a friendly and pain-free service. Reach us at 256-712-3549 today to schedule an appointment or learn more about tooth extraction.