Dental Implant FAQs

Florence, AL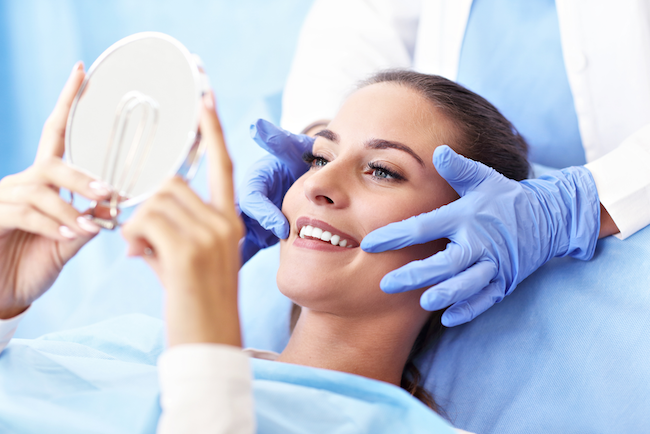 Not only do missing teeth impact your oral health, but they also impact your overall health and self-confidence. However, if you have any missing teeth, there's no need to be embarrassed. Tooth loss is quite a common occurrence among not only the elderly, but also younger individuals.
When it comes to tooth replacement options,
dental implants
top the list. They help restore the appearance and functionality of your smile. Many people have quite a lot of questions when it comes to implants so we have put together a list of FAQs.
What are Dental Implants?
Dental implants are a cosmetic dentistry procedure that help replace a lost tooth with a metal post that mimics a tooth root. This implant is planted and left for a few weeks, allowing it to bond with the bone of the jaw to create a stable foundation for a crown. The process in which the metal post binds with the jawbone is known as osseointegration. Once this process is over, an abutment will be placed over the implant, which will secure the crown to the base. Depending on how many teeth are missing, you can get single tooth implants or multiple teeth implants. It's also important to note that an implant can form the base for bridges and dentures as well.
Who is a Candidate for Implants?
Those with good oral health and good overall health qualify for a dental implant placement procedure. Having any oral problems such as periodontal (gum) disease significantly reduces the chances of dental implant success. Moreover, good overall health is mandatory so that you can receive anesthetics during your dental implant surgery.
What Happens If You Don't Have Enough Bone in Your Jaw for an Implant?
Some patients don't have enough bone in their jaw, which prevents them from qualifying for implants. In such cases, your dentist will probably recommend a bone grafting surgery.
What are the Benefits of Implants?
Dental implants help restore your smile back to normal. Since they are designed to resemble your natural teeth, dental implants become a permanent and indistinguishable part of your mouth. Unlike other teeth replacement options, an implant is fixed into your mouth, helping in the restoration of your bite force. Implants also help prevent bone loss in the jaw and help your face maintain its shape.
What are the Most Common Dental Implant Materials?
Titanium is the most common dental implant material, followed by zirconia, which is increasing in popularity.
What does Dental Implant Care Entail?
Since an implant becomes a permanent part of your mouth, you need to treat it like you normally treat the rest of your teeth with regular brushing and flossing.
Dental Implants vs. Dentures: Which is the Better Choice?
A dental implant is a permanent teeth replacement option that has become extremely popular in recent years. Even though they cost more than dentures, implants can last you a lifetime. Moreover, since they are so easy to maintain, they also require fewer visits to the dentist. When it comes to implants, you don't have to worry about them falling out while laughing or speaking, which is a common occurrence with dentures. Also, an implant makes it look and feel like you didn't lose a tooth in the first place. However, since there are certain conditions to qualify for dental implants, you will have to seek advice from your dentist to see which option is better for you.
Here at Singing River Dentistry, we offer all
restorative
and
cosmetic dentistry
services including dental implants. Call us at 256-712-3549 to book a consultation or a
dental cleaning
now.