Dentures vs. Bridges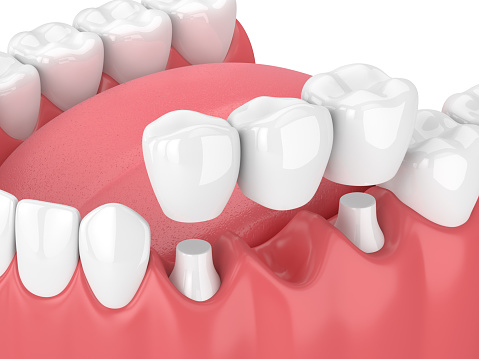 Dentures and bridges are both solutions to tooth loss. They are prescribed by dentists and do not require surgery to be placed onto a patient's gums. However, do you know how they differ from each other? Our team at Singing River Dentistry is highly skilled at placing both solutions. Our dentists are professional and friendly, giving our very best when helping you.


What are Dentures?

Dentures are often associated with seniors who have lost their teeth. Made of plastic or metal for the plate and artificial teeth, they look very natural to others. They are often cheaper than bridges and are more convenient.
The illusion of having real teeth is broken once the dentures are removed at night. The owner must also clean them regularly to prevent bacterial buildup. Scale and stains can also coat the surface, ruining the appearance of clean teeth.
Plastic dentures are usually cheaper, but they do not last as long as metal ones. Metal ones are coated with gum-colored plastic to help them blend in.
There exist partial dentures, as well. These do not contain a complete set of teeth but only enough to replace any missing ones. Partial dentures must be made to fit your teeth and gums snugly, or they might damage the surrounding teeth.
Partial dentures are best made with both plastic and metals, as they last longer and fit better. Plastic-only partial dentures are cheaper but may not fit as well.
Dentures are flexible and can be removed but do not last very long. They need to be replaced after a few years. Despite this, they are still an affordable choice.


What are Bridges?

Bridges are crowns connected to an artificial tooth or multiple teeth. The crowns will fit over existing teeth. Depending on the type of bridge, they need two or only one connecting tooth.
The crowns resemble natural teeth, and will fill in the gaps of missing teeth. As an attractive solution to tooth loss, bridges are very popular. One reason is how permanent they are, lasting for approximately 15 years.
During this time, the patient must also practice proper oral health care. This will help reduce damage to the bridges and the need for replacements before the 15 years are up. You may even forget you have dental bridges placed until you need to go back to our office.
After receiving bridges, you will have to wait for at least six months before your gums heal completely. As this implies, you will have to be more aware of your oral health than wearing dentures.


Which Choice Is For Me?

This is up to our dentist to decide. As no two people have the same mouth, solutions that work for another patient may not work for you.
If you prefer an option you do not have to soak daily, bridges are better. They only need to be replaced occasionally but cost more.
Dentures are for those who want an affordable solution to tooth loss. Maintenance is more complicated but still manageable.

At Singing River Dentistry, you can trust us to prescribe you the right choice. Please call us at 256-712-3549 to learn more.