How Implants Prevent Bone Loss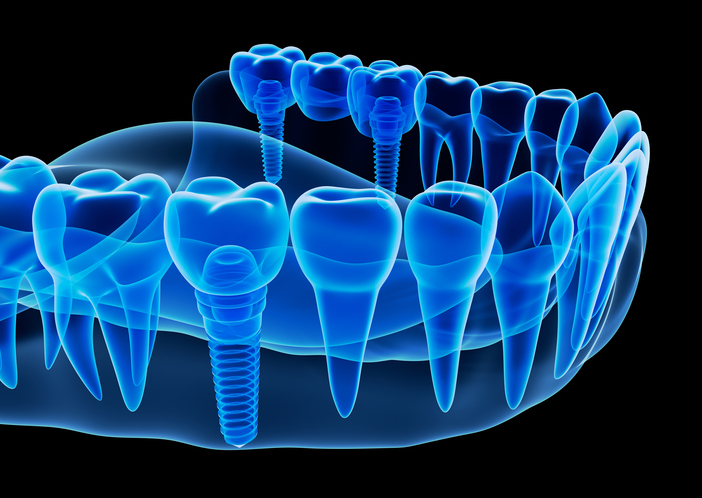 Dental implants are the most recent addition to your available options for replacing missing teeth. They are small titanium rods that are surgically inserted into your jawbone. As you heal from your procedure, your jawbone fuses with the titanium rods. This process is known as osseointegration, and essentially turns them into roots. These roots are then used to support ceramic crowns. Implants can be used to replace any number of missing teeth, from a single tooth to an entire arch; even both arches can be replaced with implants. Typically, when replacing an entire arch of missing teeth, your replacement teeth are supported by six to eight dental implants. After your bone has fully fused to the implants, the implants provide your new teeth with a strong, stable, permanent support system.

How Bone Loss Affects Dental Implants

Along with the obvious effects of tooth loss, something else happens below the gum line. Your teeth are essential for stimulating your jawbone. By stimulating the bone, your body receives a message that the jaw requires nutrients. These nutrients are sent, and your jaw remains strong. When you lose your teeth, this stimulation is lost. As a result, your body stops sending nutrients. Your jaw begins to resorb and grow weak.
Dental implants help to stop the bone loss that occurs as a result of tooth loss. They do so by imitating the functions of your natural tooth roots and stimulating your jawbone. However, if you lack sufficient bone mass, to begin with, there is a greater risk of implant failure. Even if only one implant from the six to eight placed on your implant supported denture fails, your entire restoration is compromised.

What if You Already Have Bone Loss?

If you lack the bone mass required for an implant supported denture, it does not mean you are not a candidate for dental implants. You can undergo a bone graft procedure. A bone graft is a surgical procedure that takes bone mass from elsewhere in your body (usually your hip, tibia, or from your chin), bone mass from a donor, or uses a bone graft substitute, and places the mass in the weakened areas of your jaw. As you heal, your existing jawbone fuses to the new mass, restoring the strength and shape to the jaw.
Once you have healed from bone graft surgery, you can then undergo surgery for dental implant placement. A bone graft is an effective treatment for giving you back the strength in your jawbone. Healing from this procedure can take several months, but after you are healed you can have dental implant surgery.
With the help of dental implants, the jawbone is stimulated once again. Your body receives the vital message that nutrients are required, and begins to send them where needed. As a result, the bone loss you were once experiencing in your jaw when you were wearing dentures (or going without replacement teeth altogether) is stopped. The implants help to retain the strength of your jawbone, preventing further changes in your jaw and facial shape. What's more is that your replacement teeth help to fill out your cheeks and lips, restoring the shape of your face, as well as a more youthful appearance.
If you are interested in dental implants, contact Singing River Dentistry at 256-712-3549 to schedule a consultation appointment today.