TMJ Treatment

Florence, AL


The temporomandibular joint, or TMJ, connects the temporal bone and the lower jaw and is one of the most intricate joints in the human body.

The TMJ moves the mandible (lower jaw) in a variety of directions so you can talk, yawn, chew, and swallow. All of these muscular activities can be performed when the mandible and jaw joints are in proper alignment.

TMD, or temporomandibular disorder, can result from any condition that interferes with the seamless interaction of joints, muscles, and bones in or around the TMJ.

Whether you have symptoms of TMD yourself, you suspect it in a family member or you just want to learn more about TMD diagnosis and treatment, feel free to speak to one of our professionals here at Singing River Dentistry to schedule a consultation.

We provide first-class oral and orthodontic care at our Florence, AL location!


What is TMJ? What is TMD?

Although the two abbreviations are commonly used interchangeably, TMJ is not an illness.

TMJ stands for temporomandibular joint, the hinge joint that connects our jaws to the skull. This joint is surrounded by complex body parts like joint pads, muscles, and tendons, and should any damage occur, it can lead to serious illness and symptoms like inflammation and pain. This complete structure allow us to move our mouths, talk and chew our food.

TMD, as mentioned above, stands for temporomandibular joint disorder, and refers to "any dysfunctions" in or around the whole TMJ area.


Symptoms Of TMD

TMD often causes severe pain and tends to come and go sporadically. Sometimes it can last for years if the condition has not been given any attention.

Every case is different, but the most common symptom that you may experience is severe pain in the jaw. You may also discover a popping sound when you open and close your mouth, or terrible migraines that appear sporadically.

Some other common symptoms include earaches with no signs of infection, toothaches and intense jaw pains when chewing. Swelling often occurs which makes it even more difficult to perform simple tasks.

For a professional diagnosis, our experienced dental and orthodontic experts will perform a thorough examination and come up with the best treatment plan for you.


What Are the Causes of TMD?

A blow to the head, jaw, or neck usually causes TMD. Sometimes these symptoms are short-lived and resolve on their own; but in some cases, they may grow more severe or persistent.

Erosion of bone mass and loss of jaw cartilage can also lead to temporomandibular joint pain.

The jaw muscles and joints that regulate speech, chewing, biting, and swallowing can become overworked, leading to this condition. Constant teeth grinding or clenching, known as bruxism, is another possible source of this discomfort.

Other medical conditions that may coexist with TMDs include headaches, back pain, fibromyalgia, sleep disorders, and irritable bowel syndrome.


What Are the Three Types of TMD?

The three main types of temporomandibular disorders are: myofascial pain syndrome, slipped disk or a dislocated jaw, and degenerative join disease.


| | |
| --- | --- |
| • | Myofascial pain syndrome is the most prevalent type of TMD. It causes discomfort or soreness in the muscles controlling the function of the neck, jaw, and shoulder, as well as in the fascia, the connective tissue that covers the muscles. |
| • | Internal derangement of the joint refers to a slipped disk or a dislocated jaw. The cartilage cushion that sits between the skull and the jawbone is known as a disk. It could also indicate a condyle injury - the jawbone's rounded tip where it joins the temporal skull bone. Clicking or popping sounds in the joint are often problems with this type of TMD. |
| • | Degeneration of the joints, common with aging, is another type of TMD that often causes pain and stiffness in the jaw. |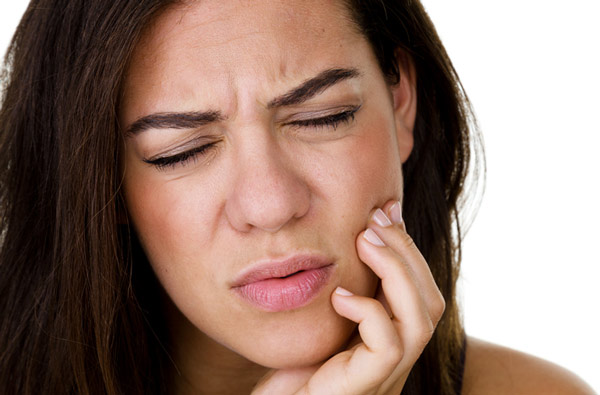 How Is TMD Diagnosed?

Our professionals will diagnose the cause of TMD with you, using the latest technology and innovative techniques.

Our doctors will most likely start with a physical exam and will ask you questions about your past health conditions.

Our professionals will use technology like MRI scans, X-rays, and CT-Scans to get the most accurate information about your jaw health.


Who Treats TMD?

Dentists are typically the first to notice and treat TMD symptoms. At Singing River Dentistry, one of our dentists will examine and oversee your oral health, including the jaw muscles.

Sometimes, your symptoms and issues with the jaw can have an impact on how well your teeth are doing.


TMD Treatment

If you are experiencing mild TMD symptoms, they can improve on their own within a few days or a couple of months depending on the situation.

Mild symptoms are usually treated naturally by resting, eating soft foods and using medicine to reduce the swelling and pain.

For more severe cases, our professionals often suggest teeth be replaced or restored with dental implants, crowns and bridges. Botox has also been effective as a treatment for TMD.

In any case, our dentists and professional team at Singing River Dentistry will help determine the proper course of treatment for you, including whether or not you need to be referred to an oral surgeon.


What Is TMJ Surgery?

Depending on the nature or severity of your symptoms, there are various TMJ surgical options.


Arthrocentesis

A fluid is injected into your joint during arthrocentesis. It is a minimally invasive treatment, and you will be discharged the same day.


Arthroscopy

During arthroscopy, a small incision or more is made in the skin directly over the joint. The recovery period following arthroscopy is shorter, typically lasting from five to seven days.


Open-Joint surgery

In open-joint surgery, tan oral surgeon will cut the line of the jaw joint to access the joint. The recovery time for this invasive procedure can take from two to six weeks.


Botox for TMD

Jaw pain is reduced, and stiff jaw muscles are relaxed thanks to Botox. Botox injections are seen as an alternate kind of TMD treatment.


Schedule an Appointment

TMD left untreated can lead to chronic pain, inflammation, and swelling. Singing River Dentistry is always here to help! You can contact our office at 256-712-3549 to schedule a consultation or to speak to one of our professionals.