Crowns vs. Inlays and Onlays

Florence, AL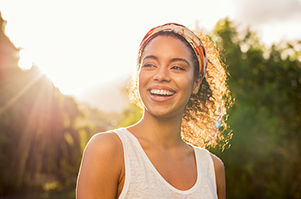 Thanks to advancements in dentistry, we now have multiple choices when it comes to repairing our damaged teeth and protecting them from further harm. At Singing River Dentistry, and we can recommend the right dental restoration treatment for your teeth, including dental crowns, inlays, and onlays.


What are Dental Crowns

Dental crowns are tooth-shaped prosthetics that sit upon your damaged or weakened tooth and prevent further harm to it. These crowns restore your chewing ability and allow you to smile with confidence.

Dental crowns are made from several different kinds of material including gold, base metal alloy, porcelain fused with metal, all-porcelain, and composite resin. Porcelain crowns are the preferred choice for people who want their crowns to match their natural teeth.


What are Inlays and Onlays

Inlays and onlays are two types of indirect filling. Unlike traditional dental filling that has a putty-like texture and is applied in layers, inlays and onlays are made according to the shape of your cavity. These indirect fillings are constructed in dental labs and fit the contours of your teeth exactly.


Crowns vs. Inlays and Onlays

A dental crown may be recommended by and when you have a deep cavity and the infection has spread down to the dental pulp. In this case, a filling cannot effectively repair the damage.

A root canal therapy will be required which will remove all of the dead pulp and tooth nerve from the tooth chamber and seal it to prevent re-contamination. After that, a dental crown will be placed on top of the weakened tooth to restore its strength and integrity. If the damage is significant we may need to extract the tooth and replace it with a dental implant.

Depending on the type of tooth and other factors, we may place a porcelain crown, which has light-reflecting properties similar to natural enamel, giving it the illusion of a real tooth.

Crowns are fabricated in dental labs and can take up to two weeks to be completed.
Inlays or onlays, on the other hand, are distinct from dental crowns. Inlays and onlays are customized dental fillings made typically from high-grade porcelain, though they can also be made from gold or other metals. These fillings are required when the damage to your tooth is large enough that a regular filling won't get the job done but is not deep enough that it warrants a root canal therapy, and hence a crown.

In this case, we will create an impression of your damaged tooth and will send it to a dental lab so that an inlay or onlay could be made.

An inlay fits the fissures of your back teeth but does not extend to the cusps or the biting surface of the teeth. Onlays are very similar to inlays though they are used when the damage has reached the cusps of the teeth.

The key difference between crowns and inlays and onlays is that the crown covers your tooth from top to bottom, while inlays and onlays only cover a specific part of the tooth. Hence, the crown is the strongest option out of the three.

On the other hand, inlays and onlays are more conservative since they do not require as much removal of the natural tooth structure.


Schedule an Appointment Today

Crowns, inlays, and onlays all have specific use cases and provide long-lasting benefits. All of these dental prosthetics are strong and do not require any special type of maintenance. You will, however, need to exercise good oral hygiene and keep your dental appointments since they do not prevent your teeth from re-infection.

To ensure your crown and indirect fillings last you a long time, schedule a routine dental cleaning and checkup appointment with us by calling at 256-712-3549 today.